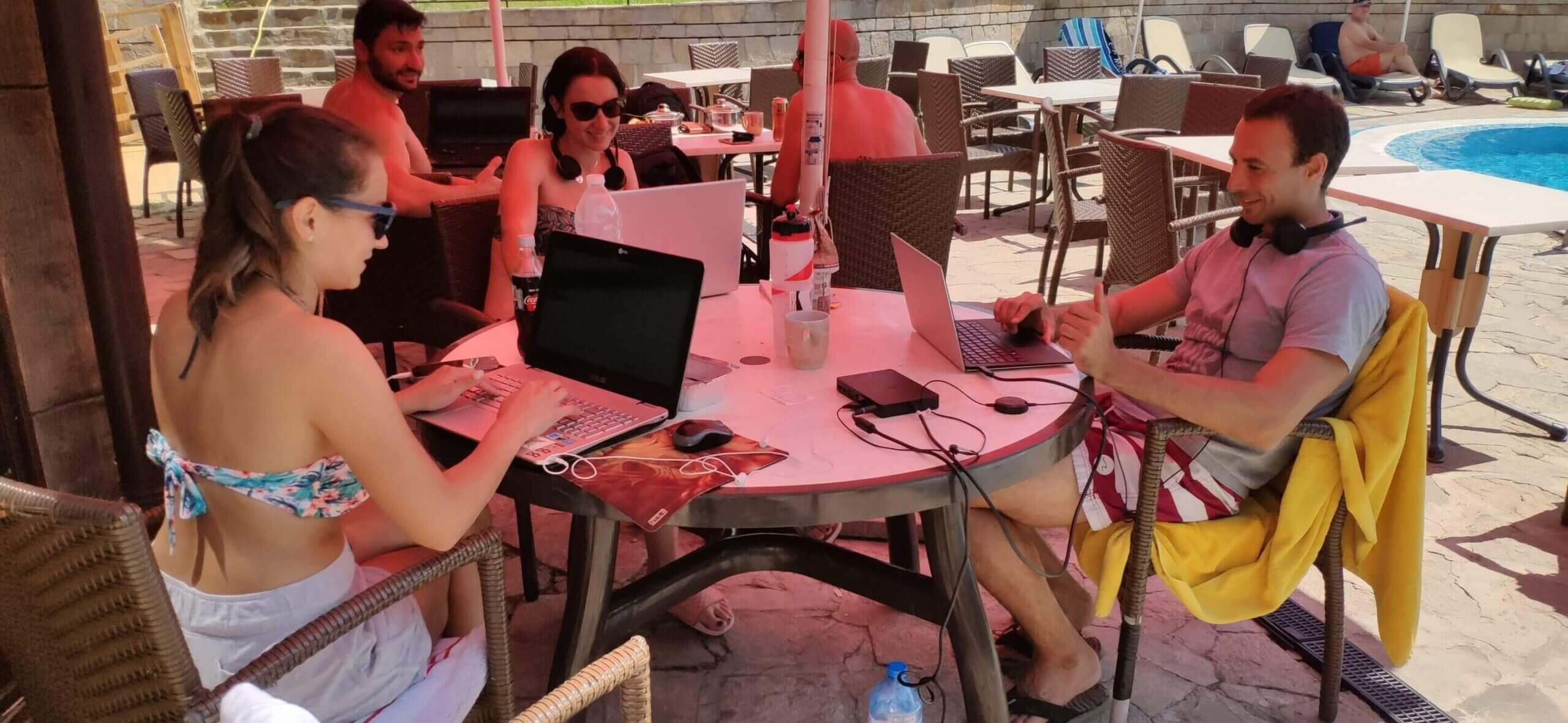 Deployed on the beach
Work from home. Shared working space.
Team building. 
Getting to know each other.
Suntan.
Beers… Lots of beers under the sun of Irakli over the weekend.
It can all happen at once. In fact – it did happen, last week for the DevOops team. And there was (almost) no Oops at all 😊 
Thursday morning, part of the DevOops team left for the seaside.  Equipped with laptops, chargers, a couple of babies and all accompanied by their "better halves".  
Here is the "How to", step by step: 

Book a place. It will be great if it covers the following: 

Cozy
Villa/s just for us 
Large living room with a table big enough for the equipment 
Remote from any civilization
Close to a beach/other nice places for leisure activities 

Bring equipment 

Laptops
Routers
Chargers
Cellphones with enough data as a backup

Bring other apparel: 

Proper clothing – Swimsuits, shirts, evening dress, etc. 
Utensils, knives, chainsaw, jigsaw, a pile of firewood, toys, lotion, etc. 

Food and drinks depending on the location and the tastes.

What went well:

We had all the access needed and did not experience any issues, except for a couple of VPN's who dropped from time to time. 
The working area was good – there were almost no other people around the same pool 
The living area was good, family villas with large rooms and well-equipped kitchens.  

Impediments we fought: 

We ensured there is internet, but WiFi was not available in the villas. On top of that, we forgot the WiFi routers, we were going to bring. 
Colleagues with older laptops experienced battery issues. On top of that in the public area, there were no power sources and we had to fight the locals and steal electricity 😊 (in our case, from the fridge with the Icecream) 
Hotspots did not work great – we had to make the video calls without video (and screen sharing). 
Only one place in the whole village area was selling cooked food when we got there. We were hungry after the long drive and we were in a hurry to begin working (so that we finish on time). So, better bring something already cooked for the first lunch 

Best practices:

Bring cold drinks with you 
Don`t save money on gas, and have enough vehicles, especially if the place is remote from civilization. During our spare time, we traveled a lot
Now the story in pictures, chronologically:
[supsystic-gallery id=2]