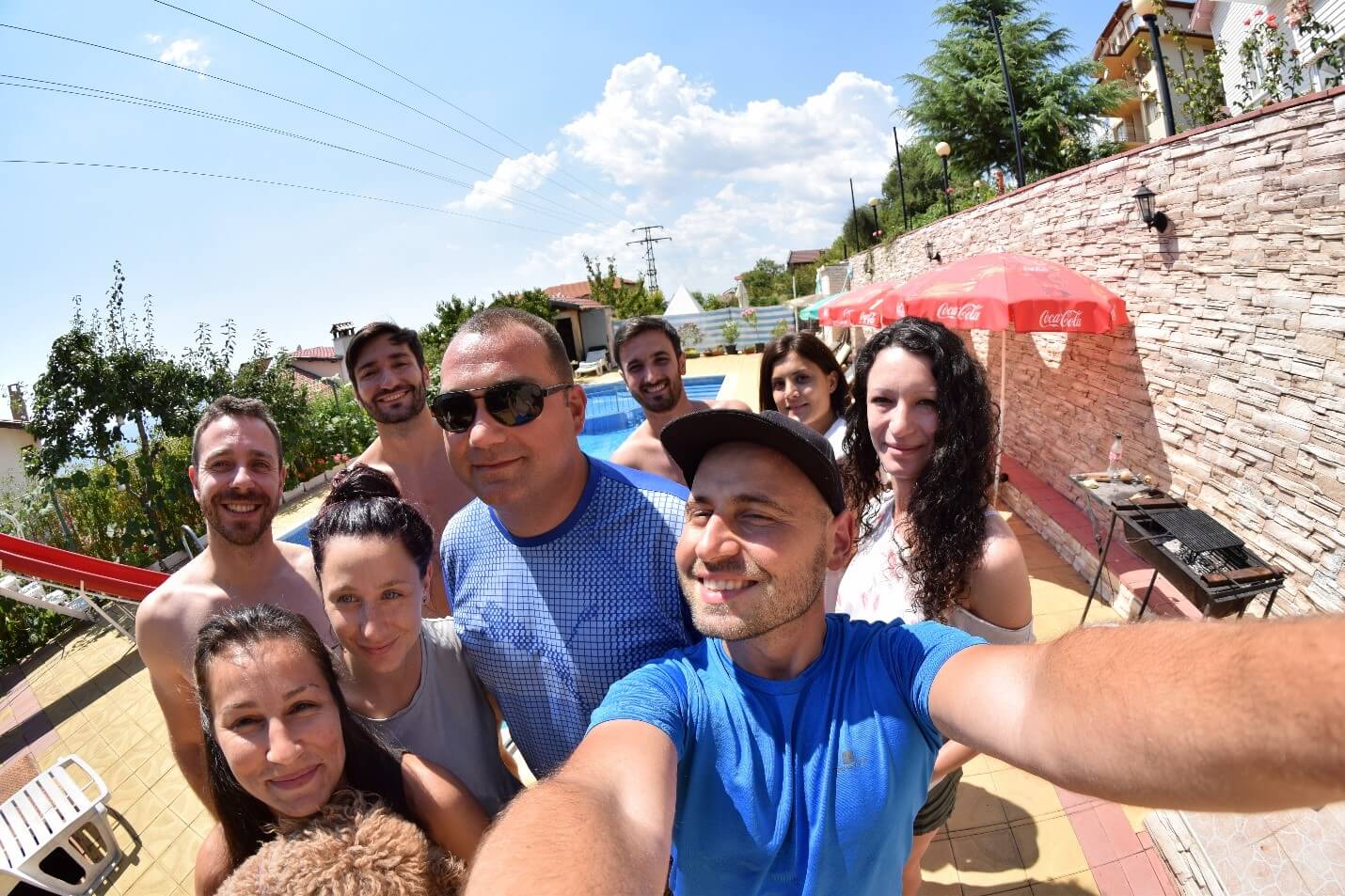 7 days. 2 locations. 5 beaches. Tons of smiles.
This is how we spent the past week working by the sea.
We kicked off with some wavy, salty, windy team building. 
We packed our bags with sunscreen and good mood, did a COVID-19 Screening, and drove off to the seaside on a sunny Saturday morning.
Right upon arrival at our first destination – Golden Sands, we grabbed the volley ball and headed to the beach. Our little furry source of endless unconditional love (and sand-sprinkler) – Ayra – jumped into the sea for the first time. Seeing the joy in her eyes, we didn't take long to follow. Next thing we knew, we were practicing with great dedication the Agile philosophy – fail fast, trying to play some volleyball among the big waves and the wind. Well, we won't make it to compete with the nationals as we hoped we would, but we laughed so hard we probably worked our cores better than any gym.
We had to praise ourselves for the hard efforts in the burning sun all day with some lovely team dinner and a little bit of adrenaline in Varna. We dined like pirates and we challenged our fear of heights at the "Boоster". Unfortunately, we couldn't catch a mermaid but there were some pretty fireworks to mark the night.
"With an enthusiastic team you can achieve almost anything." – Tahir Shah 
Even have a shower in our case.
The unexpectedly tough conditions in the first villa we'd chosen taught us plenty of skills. The first was rapid self-organization. Going back to the villa we discovered that the water pressure was so low that two people couldn't wash their hands at the same time. In order for the ladies to wash their hairs, we had to get pretty creative. We had at least 1 coordinator at each floor, shouting out to the rest when to turn the water on and off, while people were taking a shower. After a couple of other challenges with the accommodation like this, naturally next thing we learned was how to find a new villa and evacuate this house in less than 2 hours.
Vibing in St. Vlas 
Luck brought us to the charming Villa Orozovi in St. Vlas with hosts that gave us so much care and attention. Everything there was perfect – fast internet connection, home-grown fruit and vegetables, view of the sea, pool with a water slide for the short work breaks… anything you could need for a perfect remote work location.
Keepers of the flow
"The evening before we met, we had dined with God, both you and I" – this is what the owner told me, as we were so fond of each other. The hosts were so kind that they even shopped for us and cooked for us while we were spending the days busy at work. Our keeper Ayra was also always around, ready to bark away anyone who dared disturb us.
Sunsets and smiles 
With all the work, we didn't forget to have fun either. The late afternoons and long evenings were saved for the walks, the beach bars, and the sunsets. We made plenty of memories to share. Come join us next summer and let's make some more together 😊